For many people the decision on which device to purchase is made before even looking at the specifications. Some people are purely Apple loyal and some people are "Non-Apple" which is the only all inclusive term I can come up with to encapsulate all Windows based brands. In previous times you could also potentially make up your mind purely on style and aesthetics, now not so much. Even the most devout Apple fan can appreciate the design intricacy on show in the Surface devices. The build quality is now much akin to Apple with premium metallic construction with visually pleasing edge designs and colour integrations.
The purpose of this review is to make up the mind of a first time purchaser if such a thing still exists in this day and age. Ideally a consumer who has not aligned themselves with Mac or Windows Operating Systems can be swayed purely on performance, style, price and functionality. To do that, we need to go through an in depth analysis of what each device actually offers.
Competitor One: Microsoft Surface Book
Model: i5 CPU, 256GB SSD, 8GB RAM, 13.5″ Pixel Sense Display
Price: $45.80 per week on Rent then Buy
The Surface Book can be thought of as the Surface Pro's older bigger brother. This is going to be a heavy tablet but a pretty light laptop weight wise. Is this the Tablet/Laptop that can replace your tablet that replaced your laptop? Potentially!
The Ulimate laptop
Whether you love to edit photos, sketch, make music, or create amazing videos, Surface Book packs the power you need for when inspiration strikes.
Ultimate versatility
Surface Book is a high-performance laptop with exceptional power and versatility. It weighs just 3.34 pounds (1516 grams) and its 13.5-inch PixelSense™ has incredible resolution (3000 x 2000). It's calibrated for true-to-life color, with high contrast and low glare. Detach the screen to use like a clipboard, or rotate and reattach the screen to use the full hardware accelerated graphics.
Exceptional performance
Surface Book combines the 6th Generation Intel Core processors and up plenty of memory with optional discrete graphics for an unparalleled laptop experience. It's built to handle all of the creative tasks you throw at it. Design, sketch, and build without limits. Shoot video and edit in Premier Pro with amazing fluidity and smoothness. Surface Book handles the most demanding creative tasks without sacrificing battery life. With up to 12 hours of battery life [1], it's the ultimate laptop to power your ideas.
Runs Windows & Office perfectly
Surface Book runs Windows 10 Pro, the best combination of the Windows you already know plus lots of great new features you'll love. Want to run Adobe Creative Cloud, Citrix, AutoCAD or Visual Studio? No problem. Surface Book runs all of the professional-grade software you need with no compromises. Microsoft Office, the world's greatest productivity suite, works perfectly on Surface Book. Write directly on webpages with Surface Pen in the Microsoft Edge browser, and share your notes easily.
Microsoft advanced technology
Writing with Surface Pen feels as fluid and precise as your favourite ballpoint pen on paper. With one click of Surface Pen, a blank OneNote page appears for quick notes—even if your Surface is asleep. Surface Book is built with the latest facial recognition camera to make your life easier. With Windows Hello, Surface Book knows you're you, and will sign you in with no password required.
Scoring Categories: 
1. Style / Build Quality / Construction: 9/10


The aesthetics of the laptop are really good. The Surface Book has a very cool way of attaching the removable keyboard with the Dynamic Fulcrum Hinge which is really appealing and funtions very well, users who wanted something better than the Surface Pro's kickstand will be suitably impressed by this.  The Macchined Magnesium body makes the build look and feel premium, sturdy and robust.  The Display size of 13.5″ Is just about perfect for the laptop style tablet and presents a great ease of use. The 2 in 1 factor here is also massive. The Surface Book is designed equally elegantly as compared with the new MacBook Pro, and yet this device is a Tablet as well. This goes to show the area in which Microsoft have truly won out as the Surface Book can compete with the iPad Pro and the MacBooks at the same time.
2. PERFORMANCE: 7 / 10
The Surface Book reviewed here is well and truly up to the demands of the regular computer user and even those doing mild design work. Packed with a 6th gen Intel Core i5-6300U 2.4GHz (up to 3GHz) CPU, 8GB RAM and a 256GB Solid State drive on a device specifically designed to run Windows 10, make no mistake this is a seriously quick system. This will see your boot up times become next to nothing. From full powered off to on and surfing the web is ridiculously quick, which is ideal for the business-person or Uni Student the device is aimed at. For someone who wants portable performance this is it.
3. GRAPHICAL ABILITY: 6 / 10


For doing video editing, you're going to need the models with the performance base which comes with the higher end and pricier models which is a bit of a negative. Photo editing and general graphic design is going to run just fine, but once we start doing more complex tasks that require more graphical ability like Gaming or Video Editing then this will begin to struggle. However, we don't think this was very much in the design brief for this model. If you want to do serious Gaming or Video Editing, let's be honest and admit you shouldn't be looking at a Surface… of any kind.
That being said, the Surface Book is no slouch, with the on-board Intel HD Graphics you will still be able to edit photos and create a company logo in Photoshop.
4. BATTERY LIFE: 8 / 10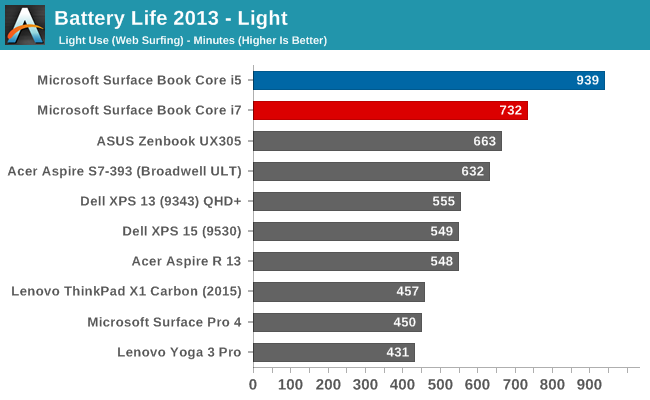 The Surface Book's battery life reflects its focus on being a laptop first, tablet second. The keyboard dock and tablet have individual batteries that offer radically different lives. Microsoft claims when used as a laptop the Surface Book will offer 12 hours' mixed use if both batteries are fully charged. The tablet section by itself has a piddly three-hour projected life by comparison. However compared to traditional laptops, especially windows ones that average 2.5 hours on a full charge, we think this is the new "standard" in battery life.
Testers found the listed laptop life to be a bit optimistic. Streaming video on Netflix with the screen brightness on the "Suggested" setting, the Surface book lost 9-14% of its charge per hour. More intensive tasks, like 3D gaming and photo editing, put a slightly bigger dent in the battery. Painting in Photoshop the Surface Book lost 15-20% battery per hour. As laptops go, these scores are pretty good and mean the Surface Book should survive most work days or a long-haul flight on a single charge.
The tablet section's battery life is a little disappointing by comparison. Streaming the same video over Netflix, the tablet section lost at least 33% of its charge per hour. I struggled to get three full hours of basic web browsing off a single charge. By tablet standards that's absolutely dire, but in my mind the tablet section's battery life is understandable given the Surface Book's focus. This isn't a device you're meant to use undocked for prolonged periods.
5. DISPLAY: 9.5 / 10
With 3,000 x 2,000 pixels under its belt, the Surface Book sits at a happy middle ground of being sharper than most other laptops (including every MacBook in existence) without the troubles that plague 4K screens. You'll never see the separation between the pixes, l because they're so tiny, and Windows 10 scales beautifully at 200%.
While most applications, including the Origin, Steam and Battle.net launcher would look tiny on a 4K screen, these windows look small, but not uncomfortably so, on the Surface Book.
I even like the 3:2 aspect ratio. The ability to read more lines of text and not have a Lightroom window that's not vertically squished together more than makes up for the thick black bars that appear when you watch movies. Microsoft fashions its displays after A4 paper, which makes the Clipboard feel like a natural device for writing and art work.
Lets not also forget…. it's a touch screen! The Pixel Sense Display functions seamlessly as a tablet. That's why we've rated it so highly combined with actually being an incredible resolution and a 3:2 Aspect Ratio.
6. USER INTERFACE: 7 / 10
It's hard to rank this at the moment with Microsoft having a few… issues with Windows 10 features and updates. But hey, that's what you can expect from an operating system they are trying to make standard across all devices. It was an ambitious task and has largely been a success, especially compared to the debacle that was Windows 8. Rant over, so now to the good things. The Surface Book designed by Microsoft runs Microsoft runs windows 10 perfectly and it is a breeze to use. For the more tech savvy generations the controls are intuitive and simple to use. In built features like Cortana give it an extra dimension as well. The amount of programs for use with Windows is almost infinite so no problems there either.
7. CONNECTIVITY: 9 / 10
Bluetooth, Wifi, 2 x USB 3.0, Card Reader, Headphone 3.5mm Jack, Mini Display Port, Ambient Light Sensor, Accelerometer, Gyroscope and Magnetometer. The Surface Book is going to connect to pretty much anything you tell it to. There is a huge range of options and this is where it outshines it's competition thoroughly. Like, rubs their face in the dirt. What do you mean i can charge the surface while using a USB mouse to move files from my SD Card to my External USB Hard Drive?! That's the sort of crazy things the world is forgetting you can do when you don't remove all the ports at once!
8. PRICE: 6 / 10

At $45.80 per week this is going to be an excellent option whether you need to use this for work, study or personal. It's not as cheap as a regular windows laptop, or even a Surface Pro for that matter but you can see why. The performance is better than 75% of laptops and the style, build quality and functionality top it all off. It's an excellent piece of equipment.
9. EXTRAS INCLUDED / ACCESSORIES: 10 / 10
The Surface Book comes equipped with the Surface Pen which is a massive inclusion. Couple this with the Program Windows Ink and you have an awesome combination. When you begin to draw with the pen and do design and or editing work the device begins to truly shine. This is not just an accessory that comes with the Surface Book, this is a tool that unlocks the full potential of the device and allows you to use it the way Microsoft envisaged!
Everyone will be impressed with the amount of accessories that are on offer here. By using these you can connect additionally to Ethernet, HDMI and VGA. Plus there is a Surface Dock as well along with a Pen Tip Kit, Surface Mouse and Surface Keyboard if you require. Don't forget you can expand the storage capacity with SD cards so that's a bonus too!
10. WOW FACTOR: 6 / 10
The Surface Book is the Ultimate Laptop that can perform as a Tablet. The construction is sleek and looks premium which is normally a compliment paid to Apple products over the years. However, for this particular model despite it's great performance and being a fantastic all round device it is left a bit in the middle. For the same sort of price you could get the Surface Pro 4 with it's keyboard Type Cover with an i7 CPU, 16GB RAM and 256GB Solid State Drive. That's a serious tablet style computer! Or let's say i really needed some graphical ability for Gaming, I'd be much better off going to the Surface Book with the Performance Base. So while this model does nothing wrong at all (in fact it does everything very very right!), it's stuck between a rock and a hard place.
OVERALL SCORE OF : 77.5 / 100
Competitor Two: Apple MacBook Pro
Model: 13″ MacBook Pro with Touchbar and Touch ID
Price: $46 per week on Rent then Buy
It's faster and more powerful than before, yet remarkably thinner and lighter. It has the brightest, most colourful Mac notebook display ever. And it introduces the Touch Bar — a Multi-Touch–enabled strip of glass built into the keyboard for instant access to the tools you want, when you want them. The new MacBook Pro is built on groundbreaking ideas. And it's ready for yours.
Touch Bar and Touch ID

A revolutionary new way to use your Mac.

The Touch Bar replaces the function keys that have long occupied the top of your keyboard with something much more versatile and capable.2 It changes automatically based on what you're doing to show you relevant tools you already know how to use — system controls like volume and brightness; interactive ways to adjust or browse through content; intelligent typing features like emoji and predictive text; and more. And for the first time, Touch ID is available on a Mac, enabling instant access to logins and fast, secure online purchases with Apple Pay using eligible cards on participating shopping sites.
Performance: 

The ultimate tool of every trade.

The new MacBook Pro elevates the notebook to a whole new level of performance and portability. Wherever your ideas take you, you'll get there faster than ever with cutting-edge graphics, high-performance processors, state-of-the-art storage and more.
Retina Display: 

The brightest, most colourful Mac notebook display ever

The new display in the MacBook Pro is the best ever in a Mac notebook. It features brighter LED backlighting and an increased contrast ratio, delivering deeper blacks and brighter whites. Its larger pixel aperture and variable refresh rate make it more power‑efficient than previous generations. And it's the first Mac notebook to support wide colour, for even more vibrant greens and reds. This ensures truer-to-life pictures with realistically vivid details, essential for graphic design, colour grading and editing.

The speakers have been totally redesigned to provide as much as twice the dynamic range and up to 58 per cent more volume, with two‑and‑a‑half times louder bass for maximum boom. And they're connected directly to system power, enabling up to three times more peak power. So they make MacBook Pro the perfect choice for mixing a track on the fly, editing video on location or enjoying a movie on the go.
More responsive keyboard. More expansive trackpad.
Interacting with the new MacBook Pro is a better experience all round. The keyboard has been redesigned to include our new, second-generation butterfly mechanism — meticulously refined for greater comfort and responsiveness. And the Force Touch trackpad is significantly larger, giving your fingers more room to gesture and click.
Thunderbolt 3 – 

Our most powerful and versatile port ever.

Thunderbolt 3 combines ultra-high bandwidth with the remarkable versatility of the USB-C industry standard to create one revved-up universal port. It integrates data transfer, charging and video output in a single connector, delivering up to 40 Gbps of throughput for twice the bandwidth of Thunderbolt 2. And both sizes of MacBook Pro are available with four ports, so you can do all that from either side. Existing devices are easily connected with a cable or adapter. And Thunderbolt 3 is reversible, so no matter how you plug in, it's always the right way up.
It's why there's nothing else like a Mac.
macOS is the operating system that powers every Mac. It's engineered to take full advantage of the hardware and designed to be as easy to use as it is beautiful to look at. macOS includes an amazing collection of apps you'll use — and love — every day. It also features iCloud and other innovative ways for your Mac, iOS devices and Apple Watch to work together.
Scoring Categories: 
1. Style / Build Quality / Construction: 9.5/10
You just can't not like it. Despite anything you can detract from the laptop there is no denying that it looks beautiful. The Touch Bar is an absolutely awesome addition with the Touch ID as well. As more programs begin to utilise the Touch Bar we're going to see more and more uses and applications to make it awesome. As an advertiser who regularly uses video and picture editing software I can see the potential straight away. The build quality is typical of what you'd expect from Apple, premium materials and a solid sleek design. It's got the "Apple" factor and people are going to know that you have a "MacBook", this is something you just can't get from a Surface Book no matter how much Microsoft try to emulate Apple. Plus don't forget this model is offered in Silver and Space Grey.
2. PERFORMANCE: 8 / 10
On Geekbench 4, which measures overall performance, the 13-inch MacBook Pro posted 7,587. That beats the entry-level MacBook Pro (7,053) and is neck and neck with Microsoft's Surface Book with its 6th-generation Core i5 CPU. This MacBook also trumps the XPS 13 with 7th-gen Core i5 (7,287). However, the HP Spectre x360 and the Lenovo Yoga 910 with 7th-gen Core i7 muscle both scored above 8,000 on this test.
Wondering how quickly the 13-inch MacBook Pro can crunch numbers? It took the system 4 minutes and 15 seconds to match 20,000 names and addresses. That's good, but the Surface Book, the HP and the Lenovo all finished the same task in under 4 minutes. 
The MacBook Pro's SSD is the champ in this group, as it turned in a transfer rate of 636.16 megabytes per second. That's even faster than the storage we tested in the entry-level 13-inch MacBook Pro (508.9 MBps), and it beats the Surface Book (363.5 MBps)
The MacBook Pro is offering some premium performance here akin to the Ultrabooks with Windows. Anything with an i5 CPU, 8GB RAM and a sweet Solid State Drive and a new O/S is going to chug along pretty nicely.
3. GRAPHICAL ABILITY: 7 / 10
The Iris 550 graphics in this MacBook Pro are more powerful than the 540 card in the entry-level model, but it doesn't make a dramatic difference. On the OpenGL portion of the Cinebench benchmark, which measures graphics performance, this MacBook notched 36.4 frames per second.
This number is slightly better than the 35.69 fps by the entry-level MacBook Pro but trails both the Dell XPS 13 (42.62 fps) and the HP Spectre x360 (43.80 fps). The Surface Book with Performance Base blew away this Mac with 78.05 fps, thanks to its Nvidia GPU, however the Surface Book without performance base performed quite comparably.
The Geekbench 4 Compute test was then run, which measures graphics performance by evaluating image processing, computer vision and number crunching. Here the MacBook Pro performed better, hitting 30,628. That beats the Dell XPS 13, HP Spectre and Yoga 910, all of which scored under 20,000. However, the Surface Book with Performance Based doubled up the Apple with 63,900. The non-Touch Bar MacBook Pro also beat the Windows competition at 28,444.
Finally, we tested the Touch Bar MacBook Pro on the Dirt 3 racing game. It hit 37.9 frames per second, which is perfectly playable, compared with 35.1 fps for the non-Touch Bar Mac. The Dell XPS 13 hit just 28 fps, but the HP Spectre got 50 fps and the Yoga, 910 40 fps. Not surprisingly, the Surface Book with Performance Base outpaced everything else, with 117 fps.
4. BATTERY LIFE: 7 / 10
Perhaps because of the extra components in the MacBook Pro with Touch Bar and Touch ID, this system has a smaller battery than the entry-level model: 49.2 watt-hours versus 54.5 watt-hours. As a result, this version lasted about an hour less on our web-surfing test, posting an average of 8 hours and 46 minutes. That's above average for an ultraportable (about 8 hours), but behind the non-Touch Bar MacBook Pro's 9:50.
The Lenovo Yoga 910 (10:36), the HP Spectre x360 (10:08) and the Dell XPS 13 (13:49) all lasted longer than the Touch Bar MacBook Pro, and the Surface Book with Performance Base (9:10) lasted a bit longer as well. 
5. DISPLAY: 8.5 / 10
The 13-inch Retina Display on the MacBook Pro is practically perfect. It's bright, rich and sharp, making it a great canvas for watching videos, editing photos and just doing work. Testers can make out specific fine details on the 2560 x 1600-pixel. There are also explosions of color when streaming 4K clip of flowers, including bright yellow tulips, yellow and orange poppies and purple campanula.
The screen impressed in  lab tests, too, notching 119 percent of the sRGB color gamut. That trumps the XPS 13, the Spectre x360 and the Lenovo Yoga 910, and edges out the latest Surface Book. However, this display's color accuracy score of 1.25 (where 0 is perfect) wasn't quite as good. All of its closest competitors posted under 1.
The 13-inch Pro's panel is brighter than leading Windows machines, as it registered 452 nits of brightness. That outshines the Surface Book (376), and the Dell, HP and Lenovo were all below 320 nits. 
So while this Display is extremely good, the Surface Book's Ratio, Touchscreen and Detach-ability (is that a word?) give it the slight edge.
6. USER INTERFACE: 7 / 10
macOS Sierra enters the fray as a solid, dependable operating system just like the final two versions of OS X. It offers clear benefits when used in conjunction with iPhones and Apple Watches, while the addition of Siri and iCloud Drive are a boon for working with files and retrieving information on the desktop.
The programs that come pre-installed on Macs is quite impressive too considering you would have to buy Microsoft Office if you were on a Windows PC. However lots of the time we end up providing Mac Office, so that point may be redundant to most users.
Nevertheless Mac Operating Systems are always intuitive and lend themselves to creativity.
7. CONNECTIVITY: 7/ 10
Easily the most controversial thing about the MacBook Pro is Apple's choice of ports. You get four Thunderbolt 3 ports, two on each side, along with a headphone jack. The Thunderbolt 3 ports certainly are versatile, as they carry power and data over a USB-C connector, and you can connect up to two 4K monitors.
But not having an SD Card slot or full-size USB port feels like ripping us into the future too soon. Photographers will find it difficult when it comes time to transfer videos and photos from Cameras to the MacBook Pro as they will need to purchase a USB-C memory card reader.
Want to connect your iPhone to the MacBook Pro? You'll need a separate dongle. At least Apple has decided to lower prices on USB-C accessories through the end of the year. You can pick up a USB-C to USB adapter, a USB-C to Lightning Cable or a USB-C Digital AV Multiport Adapter (which has a full-size USB port and HDMI connector). Still, you'll have to carry around and try not to lose these extra accessories.
I guess we can just be thankful they learned from the disastrous 12″ MacBook with the 1 USB-C Port. That mistake could've killed this laptop.
8. PRICE: 6 / 10
At $46 per week, this is much the same as the Surface Book. This is a flashy computer and as the old adage goes "you get what you pay for". Sure there is the MacBook Air at $29 per week and the entry  level MacBook Pro Retina 13″ Model for $33 per week, but are they as cool as this Touch Bar model? The choice is yours on whether you think the jump is worth it.
9. EXTRAS INCLUDED / ACCESSORIES: 6.5 / 10
The fact that you HAVE to buy dongles or card readers etc means there's plenty out there. The question remains though… why aren't they just part of the computer? The Surface Book integrates a huge range of ports leaving nothing to the expense of the buyer and also includes the surface pen.
The MacBook Pro falls down a bit here, but as there are still heaps of options available and it still has all the "essentials" (in the eyes of most people) we can't really fault it much. If you get a SMK-LINK USB-C Multi Port HUB your problems could all be solved for a few extra dollars per week. This device comes with all the popular peripheral connections to a USB-C port including three regular USB 3.0 ports, one SD card slot, one miniSD card slot, an HDMI port (4K video capable,) and a Gigabit Ethernet port. It also has a USB-C port of its own for pass-through charging.
10. WOW FACTOR: 9/ 10
We've got to rate it highly here as Apple is doing something we simply haven't seen before…anywhere! It's a completely new idea and the functionality and practicality is only going to improve over time as more developers take part and make software based on the Touch Bar. The Touch ID is also cool and as Apple Pay becomes more widely used and accepted in AUS it's going to be a very cool addition. Some reviewers have found it to be a gimmick, and to an extent that's true. However, there are some real uses for this and it is a totally unique idea.
OVERALL SCORE OF : 75.5 / 100
So what do you choose?!
It's no coincidence they both scored so closely as they both have such similar strengths and weaknesses. In the end the Surface Book technically wins out in the scoring due to the TouchScreen display and the fact that it can be a Laptop and a Tablet, plus the connectivity is much better. However if you don't really care about having a Tablet, then ask yourself if you'd like to be able to simply read a memory card or plug in a normal USB with no fuss.
We reviewed these two particular models because they were similar in price. We probably favoured Apple here though as we used their Entry level TouchBar MacBook Pro as the entry point, which means we could compare it to the similarly priced Surface Book non entry level model. IF we got to use a Surface Book with the Performance Base compared to a 15″ MacBook Pro with TouchBar it could be a completely different review.